Norby went to Lichen and Gdansk to report from the polish summer parties "Lost Party" and "Silly Venture 2020+1".
POLISH SUMMER 2021 – Copy Party Report Summer 2021
by Norby
After lockdown time, in the Summer of 2021 we had the opportunity to return to the Demoscene parties here in Poland.
I mean the real thing, not just online. For me personally, it was an opportunity to return to the scene life after about 25 years of break. Yes, I visited some meetings, like Decrunch Party 2020 last summer, but it was a short visit just for one day to meet some friends and catch a beer together.
But this year, I decided to spend more time with my old friends and demoscene freaks, so I dug up my old ID and bought the tickets for two great scene events in Poland. Fortunately, in the summer of 2021, the covid-situation was so good enough that these events could already take place under the sanitary restrictions. And that was the way.
Lost Party 2021 (8-11 of July 2021 held in Lichen, Poland)
That was my first real demoscene party trip since 1998. I went to this party thanks to my old scene pal Dalthon, who has been convincing me for a long time – come and see how great time we spend together on modern parties. He visited Lost Party every year and he was always very pleased, so I decided to join him and that was the best decision of this summer. I found a great atmosphere and amazing people there. Lost Party is an 8bit demoparty mostly for small Atari, Commodore 64, ZX Spectrum, Amstrad CPC. But also some Amiga and PC guys are welcome here.
Thanks to Vasco, main orga of the party, and with his support my hotel was very close to party place and that was a great convenience. When your age is 40+ there is an essence to have your cave somewhere close, so that there would be no problem to go to hotel room every time you need to take a rest for a while. This is completely different than in the 90s, when a piece of mattress on the floor was pretty enough.
The location of the party place was excellent. There were several shops and supermarkets near the fire station where the party place was held, as well as restaurants and very nice neighborhood. Licheń Stary is a sanctuary city with very nice tourism infrastructure. Shops, markets, buffet, pizza, hamburgers, sandwiches, scrambled eggs, coffee… everything very close in the area! Characteristic IDs made it possible to recognize people from the party among the remaining pilgrims coming to Lichen. An organizational masterpiece, everyone with positive attitude to others, smiling, what more could you want from such an event, I wasn't bored for a moment.
Polish summer in the year 2021
The party was held on Polsat Plus Arena Gdansk, official soccer stadium built for EURO 2012. Friday was the best fun, although some sceners had been partying since Thursday. There were many concerts at the event, like awesome music show from KATOD, also many interactive interviews with party guests via interactive TV connection. Later in the evening there was a hot grill with cold beer and the scene meeting moved outside. The competitions started on Saturday. It was a retro party, so there were compos for Atari XL/XE, Commodore 64 and ZX Spectrum. All compos were streamed online and the attendance was just about 100-150 people who changed over the 4 days of the event.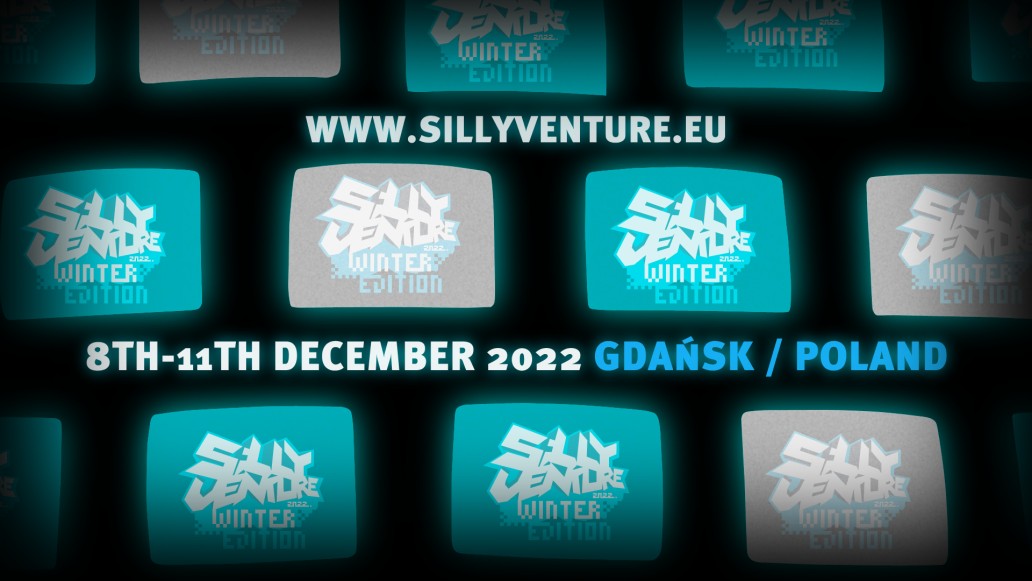 Silly Venture 2020+1 Summer: "uniting all ATARI scenes since 2000!" (20-22 of August 2021 held in Gdansk, Poland)
The same summer, about a month after Lost Party, there was another big scene event that I went to, and it was the Atari party Silly Venture 2020+1 edition. Usually Silly Venture party takes a place in December, but the idea to organize an overdue party from previous year (due to covid) in the summer hit the spot. Especially that the place of the party was amazing this year and the date was very special for Atari fans.
It was the 20th anniversary of Silly Venture party and Atari ST's 35th anniversary. And the party was held on Polsat Plus Arena Gdansk. It's the official soccer stadium built for the football championship of Europe, EURO 2012, which was held in Poland and Ukraine. The party started on Friday with the grand opening ceremony in the stands of the stadium along with the presentation of Atari demos on huge stadium screens, which must have made an amazing impression, which, unfortunately, I did not see live, because I set off on a trip only on Friday around noon.
A reunion with XTD
Anyway, my plans for the first evening party were completely different, because I received an invitation from my old scene friend XTD / Lamers & Mystic, which I hadn't seen since… 1997. We had a great time together and Kalosz / Suspect also joined us. So it was a mega cool meeting after many years. We talked almost all the night and I lost the light off like this around 3am and the last thing I remember are the Lamers demos with XTD's anecdotes about it.
I arrived to the party place on Saturday and immediately ran into the competitions that were starting. All the works were presented on the TV network located in the club all over the stadium. It made a great impression on me, because normally demos are displayed on one big screen, and here you could watch the productions from almost anyplace in the club. You did not have to sit on a chair in front of the big screen all the time. You could sit at the bar or in the lounge on the first floor, or at a table somewhere downstairs, and everything was clearly visible on the monitors placed in the club.
People said it had advantages and disadvantages, but I did only see the advantages of such a solution. It was just so cool and comfortable. Each visitor received a paper vote sheet and a pen, it was possible to take notes, while compos took place and vote using the application on the phone. Easy and fun, it's completely different than it used to be in 90s. Regarding the compos, the level of demos, musics and graphics was very high this year – all prods from Atari VCS, to Atari XL/XE, Atari ST/STe, Lynx, Falcon and Jaguar.
After the compos we went to the beach!
What? Yes, it was the highlight of the whole party! Grey, main orga of Silly Venture arranged a great spot on sandy beach in Gdansk with a bar, cold beer, the sound of waves and a screen with Atari demos located next to one of the seaside pubs. The transport by buses was free and comfortable with great atmosphere of all the sceners. I must point here out that not only the Atari sceners were present, because a lot of Amiga sceners came to the party. Today's events unite all kinds of demosceners and this is really beautiful. In total, over 200 people attended the party for 4 days, of which over 100 people were on the beach. The weather was fine, and chiptune music could be heard all over the beach.
At this point I want to send my very big thanks and greetings to Sachy / Resistance & Joker & Lamers & Wanted Team, who offered me a place to stay for night. Because all the hotels were already full. It reminds me of the teenage years of the Demoscene, when we often met our scene friends and went on vacation together or spent time watching demos in our houses. Now, we are adults. We have children and families, but the Demoscene spirit is still very strong in some scene people and this is really rocks!!
"I didn't even mind that it was an Atari party…"
Finally on Sunday, the party ended with the announcement of the results and everyone slowly went home. I must say Silly Venture 2020+1 Summer Edition was one of the best and most professionally organized Demoscene events I have ever been to. A great place, Lechia Gdansk football stadium, I would never have come up with the idea that a party could be organized in such a place. But Grey prepared it amazingly and professionally, especially this beach place, it was amazing and I will never forget it. Watching demos on the sand together, I didn't even mind that it was an Atari party, because so many Amiga freaks arrived.
100% positive energy and a Demoscene atmosphere that I missed very, very much. I hope that the world situation in 2022 will allow us to organise another number of amazing events in Poland. As far as I know, there are more amazing parties ahead, to which I would like to invite everyone now. You will enjoy it a lot, I promise!