Ich finde, die Suchmaschine von Censys, ist bei der Aufbereitung der Daten, z.B. bei der Sortierung besser aufgestellt…
Jap…

Bei Networkscan kann man wohl nur nach IP's crawlen. Bei Censys ist es völlig egal, welche Werte du schon besitzt - die Maschine sucht es! Genauso auch über jeglich erdenkliche Kombination von Werten zu einem Querie!
Im Endeffekt identisch mit Shodan…nur das beide Dienste halt auf unterschiedlichen Such-Algorithmen basierend aufgebaut sind.
Mit Shodan hat wohl jeder mal angefangen, der sich mit der Thematik auseinandersetzt. Für beide Dienste existiert eine Search-String Language, die sehr umfangreich ist. Ich hab da mal 2009 / 2010 mit angefangen, später mit Shodan Diggify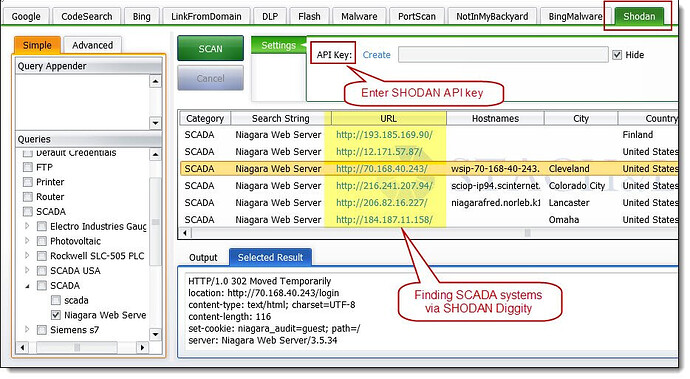 …und anfänglich natürlich mit "Complete Guide to Shodan Collect. Analyze. Visualize. Make Internet Intelligence Work for You"
https://support.censys.io/hc/en-us/articles/360059720271-Search-2-0-Example-Host-Queries
https://github.com/thehappydinoa/awesome-censys-queries
https://5851803.fs1.hubspotusercontent-na1.net/hubfs/5851803/Censys_Data_Whitepaper_2021.pdf
More Internet hosts and services:
Automatic protocol detection, where Censys identifies services
independently of ports, means your team will have visibility into
services running on non-standard ports. We perform automatic
protocol detection to find services running on unexpected ports,
where 66% of the services we uncover are on non-standard ports
Multi-perspective scanning:
By scanning from five Tier-1 Internet Service Providers from
separate locations around the globe, with Censys data you
have visibility of 99% of active IPv4 hosts on the Internet.
Censys maintains the largest X.509 certificaterepository in the world:
- containing 9.5 billion certificates.
• Certificates originate from both Certificate
Transparency Logs and from TLS handshakes of
IPv4 hosts.
• Complete and parsed certificate details with
browser trust status