Auf dem OG Board konnt man gerade die letzten 30 Minuten mitlesen, wie GO Unlimited versucht die ausstehenden Zahlungen seit dem 16.06. so zu taxieren, dass kein Loch entsteht…upps!
https://ogboard.com/threads/gounlimited-to-dmca-ignored-video-hosting-hd-videos-clean-ads-ppv-fast-payout-mini-10.115/page-7
Payout still pending since the 16th… any update on that?
Hey buddy,
Please wait for our billing team email notification very soon.
This month payouts are taking longer than the usual 24 hours timeframe, I should admit that to be honest.
The ETA increased into couple of days due to some users requesting $2,000 and greater amounts.
I am considering putting a weekly payout limit to prevent this, what do you think about $500 weekly?
Die sind dort echt am Verhandeln! Es scheint, dass die Aktionen der letzten Stunden / Tage GO Unlimited doch etwas mehr, als nur reine Nerven gekostet hat !!

Hier noch ein Screenshot von der Antwort von Cloudflare. Daraus geht nicht konkret hervor, dass sie den Anbieter wirklich wegen der ganzen Copyright Verstöße gekickt. haben. Am vielen Trafic hat man sich aber sehr wohl gestört, siehe Nachricht.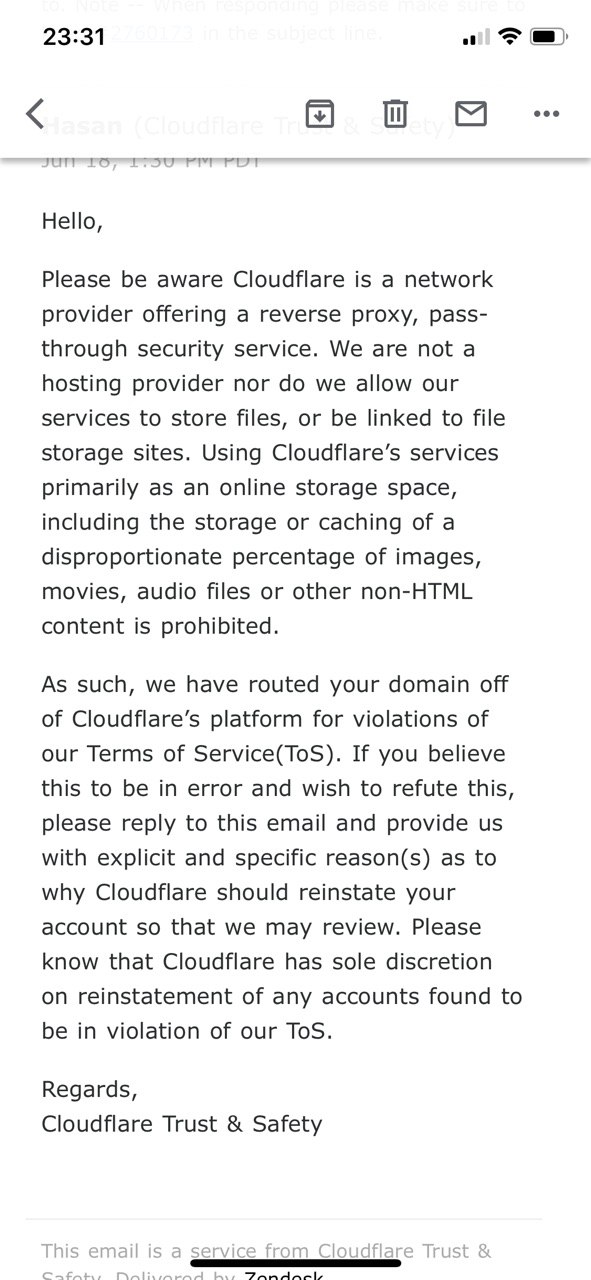 Cloudflare = Bequemlichkeit !!
Die ganzen Anbieter sollen sich mal einfach an Zeiten vor CF erinnern, wie es damals gemacht wurde…
– DDOS konnte auch der Provider oder spezielle Dienste !
– Verschleierung von IPs und Domains > Proxys, Shadow-Server usw.
– CDNs sind heutzutage sehr schnell selber erstellt (siehe z.B. Openload)
– Erreichbarkeit / Schnelligkeit der Site über Load-Balancer etc.
– etc. pp.
Also, wie man sieht, funktioniert solch ein Dienst auch OHNE CF im Hintergrund…
Kommentar von DMCA Ignored becomes more and more popular « tunny.to:
[…] increasingly under pressure. The domain of Openload was suspended and blocked only a few days ago, GO Unlimited was removed from Cloudflare. Namecheap has blocked and removed several filehoster domains. Subpoenas from RIAA caused some […]